Are the Leo man and Virgo woman a hot connection when it comes to sexual intimacy? Are they a good match if they want to be a couple? I can help you with what you need to know.
Can Virgo woman and Leo man make it happen? There are some things that you need to read. On that note, you may want to keep reading for more information on Leo man and Virgo woman in bed, it may be a real eye opener!
The Leo Man And Virgo Woman Attraction
Both signs are strong individuals who appreciate beautiful people. Leo men love women who are strong, independent, and can hold their own. Sounds just like the Virgo woman doesn't it?
The Virgo woman is attracted to the Leo man's external beauty and his ability to be successful in anything he does. His charm helps stir things up between the two of them as well.
They're both highly intelligent and will strike up enough conversation to be intrigued with each other. Virgo woman will be rather private which makes her seem mysterious. That will definitely turn on a Leo man attracted to Virgo woman.
They will get to talking and find that they have some things in common. There are probably activities that they both enjoy and so this gets the mood light and makes them think there may be an opportunity here.
Where the Leo man is willing to dive into bed with a woman, Virgo woman isn't as willing to dive right on in with just any guy. She has higher standards, is picky, and wants to be in a relationship with the person she has sex with.
So there may be initial attraction but once they get to know each other better than just an acquaintance, they will understand that Virgo woman and Leo man aren't the best match for a relationship.
Leo Man And Virgo Woman Problems
As I mentioned, Virgo woman isn't going to go hop in the sack with the Leo guy easily. It doesn't matter how attractive he is, she has her standards and she's going to stick with it.
Leo man will feel rejected and decide that Virgo woman isn't the one for him; not even for just sex. He figures out she's not easy and she's not going to agree to be a "friend with benefits".
I'm not saying it's impossible because some Virgo women may have signs in their chart that will dictate that they may be a bit more open to casual sex but most Virgo women are not.
The Leo man and Virgo woman do not connect at all when it comes to emotions. They are closed off to each other. Virgo woman is very private and Leo man wants to vent but he won't vent to someone who seems very cold to him.
This makes for a very rocky situation if these two decide to pursue a relationship much less a sexual one. Their life values aren't likely to line up very well either so standards are at different levels which make them both uncomfortable.
They could possibly learn to trust each other but it's not a likely scenario since none of the other areas of what is important seem to line up well. It's not impossible but not looking good either.
Leo Man And Virgo Woman In Bed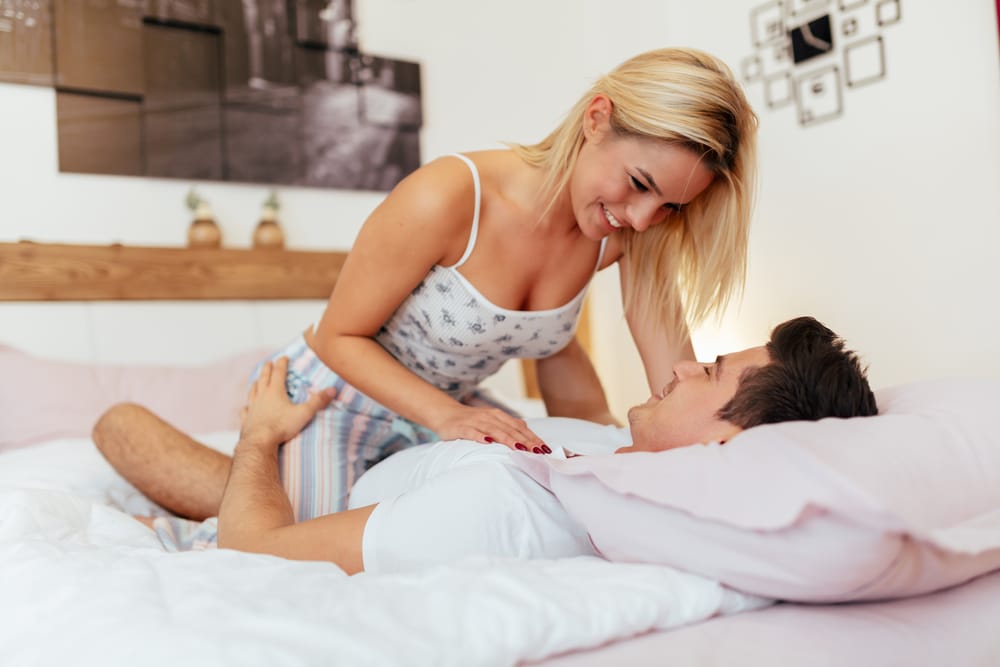 I'm not going to lie to you. The sexual match between Leo man and Virgo woman isn't good. It's not the worst but it's also nowhere near the best if they even manage to get to the bedroom at all.
This is one of the lower scoring match ups both relationship wise and just sex alone. The two just don't mesh well. Leo man wants a woman to adore him and make him feel taken care of.
Virgo woman doesn't need a man therefore doesn't feel the need to treat him like he needs to be coddled. She won't want to give him approval and she sure isn't going to compliment his sexual techniques like he wants either.
If they manage to have sex by some miracle, Virgo woman will criticize him and tell him where he needs some work. Leo man will take this very hard and see her as cold, calculating, and he will want nothing more to do with her.
If she doesn't critique him out loud, she will definitely stay quiet when he's expecting her to adore him and tell him how fantastic he was in the sack. If he tells her as much, he'll get an earful of what he didn't want to hear.
She will absolutely tell him the truth even if it hurts him. Leo man wants to feel really special when he's having sex with someone even if it's only a one night stand. He's not going to get that from Virgo woman.
Virgo woman will expect him to jump through hoops and show her that he's going to be devoted to her or at the very least give her exclusivity. He may not be willing to do that.
Leo and Virgo woman in bed are both dominant as well which means they will likely not agree on who should take the lead or who should take the reins when it comes to be intimate. It's just a battle all the way around with these two when it comes to sex.
Virgo Woman and Leo Man Break Up
As you may be able to imagine, the Virgo woman and Leo man break up may not go very smoothly. Virgo woman may feel very offended or hurt by the Leo man's jerk like behavior when it doesn't go well.
When Leo man and Virgo woman in bed aren't the match they had hoped, things can go very wrong. Leo man makes that connection to desire from his woman and if it doesn't happen, he's very unhappy.
While typically Leo man attracted to Virgo woman is a thing, he may lose that attraction when they begin to misunderstand each other or bicker. This can lead to the unholy Virgo woman and Leo man break up in a quick fashion.
They could even possibly end up ghosting each other when they realize that it's not happening the way they had truly believed it might. There are factors that have to be considered in their charts.
Some aspects could either help them or hinder them. Virgo woman and Leo man don't match typically but they may  have aspects that cause them to get along better and actually bring out joy.
Read next: 7 Tips for Moving On After a Breakup With a Leo Man
Conclusion
All in all, Virgo woman and Leo man isn't the best match for sex or much else really. They don't like each other enough to want to get close to each other. Even if they are initially attracted, they will veer off that path fairly quickly.
Keep in mind, I am not trying to tell you that you shouldn't pursue a Leo man but I'm telling you that if you have an alternative or it's not serious, you probably should keep looking.
It's not 100% impossible but I'd say that to have a relationship that is sexual or is love with a Leo man isn't looking positive. I'd say there may be a 2% chance of it working but hey, that 2% could be all you need.
Trust in your gut as it will always guide you with who is right and who isn't so right for you. Always listen to what you feel rather than what you want. While the Virgo woman and Leo man break up is possible, it's also possible to make it work.
If you want to better understand how compatible are Leo man and Virgo woman in bed, check out my brand new Leo Man and Virgo Woman Love Compatibility Guide, and if you want to catch him and keep him click here to learn more about Leo Man Secrets.
Ironically this is the opposite but Virgo Prince Harry and Meghan Markle Leo woman are doing quite sell so clearly there was something in their charts that made them more destined for one another and are able to push through the hard times. If they can do it, anyone can!
In fact, I'd be willing to be there is a chance with the Leo man attracted to Virgo woman. You never know but your chart may tell you! Virgo woman and Leo man break up may not happen in your case either.
Are you a Virgo woman who is making it work with a Leo man? Tell me your secrets! I'd love to read them!
Share your story (or situation) with our community in the comment section below (don't worry, it's anonymous).
Wishing you all the luck of the universe
Your friend and Relationship Astrologer,
Anna Kovach