Falling for your Leo crush? It's not hard to catch feelings for this sunny, masculine, and powerful sign. He's the type that you can imagine yourself spending the rest of your life with – warm, protective, and romantic – he has all the right ingredients to make him the perfect catch! So, how can you take this summer flirt and turn it into a strong relationship? 
You're lucky to find a single Leo man, ladies. These ones are often all already taken, and happily married with a few kids. He is the family sign, after all, and the loyalty of a Leo is something rare and wonderful! 
So, you'll have to work quickly it get him to be yours forever, lest he get snapped up by some other girl! Rest assured – in my experience as a Relationship Astrologer, Leo men want a long-lasting, strong relationship. Summer flirts are not really their thing. 
It's pretty simple to seduce him and make him yours – here are my favorite tips that will have him wrapped around your little finger: 
7 Ways To Turn A Summer Flirt With A Leo Man Into A Strong Relationship
1. Be As Romantic As Possible
Leo is the sign of romance – did you know that? Along with Libra, this is one of the mushiest, most lovestruck signs you can get! They live for sunset walks on the beach and sweet moments shared with their lover.
So, if you want to keep him around, be as romantic as you possibly can! Gift him flowers, go to swanky restaurants and have a candlelit dinner. Do all the cliched things, like snuggling up at a movie theater or taking his hand as you walk through the park together. Imagine you are in a rom-com! 
He just won't be able to stop thinking of you, and wanting more and more of this sweet romance! 
2. Make Him Feel Like The King Of The World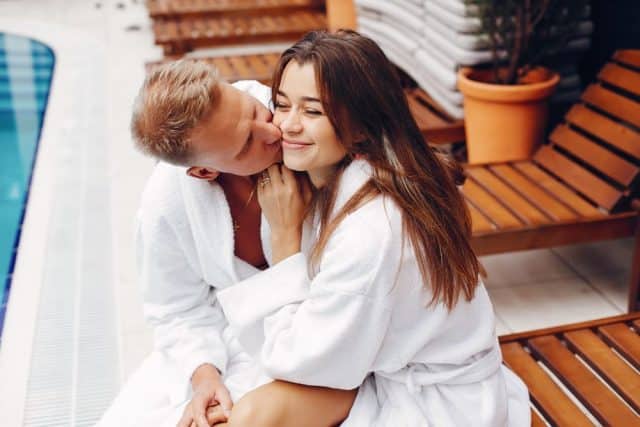 Leo, more than any other sign, loves to be flattered and praised. Their ego adores being boosted and they will get giddy for someone who always validates and appreciates them. 
In fact, this is a win-win situation, because the more your praise him, the more he spoils you and the more he wants to commit to you. Making him feel good (all the time!) about who he is, his talents, his gifts, and his qualities, will have him practically eating out of your hand! 
Turning a summer flirt into a long-term romance has never been this easy, right? Right! Now go on, start complementing him, and don't stop! 
3. Shower Him With Gifts
One of the love languages of the Leo guy is gifts – and lots of them! You'll find that he loves to spoil you by taking you out and paying for lovely dinners, but he loves that being done for him, too. 
You don't have to go as big as he does – besides, you never want to outshine a Leo anyway! However, buying him the occasional bunch of flowers, a delicious chocolate, or a small something to let him know he's on your mind will have his heart melting into a puddle for you! 
You see, he loves being made a priority, and knowing that he is the center of your life. That's when he truly commits! 
4. Let Him Completely Lead The Way
Everyone knows that a Leo guy always takes the lead! He's the King of the Jungle, after all! If you want to take your summer romance and make it into something strong and long-lasting – let him take the lead on that. 
Step totally in your feminine side and allow him to be that masculine energy for you. 
He loves it when a woman can completely fall into him, rely on him, and make him feel like the man of the house. This is the type of woman he sees himself committing to – Alpha females really aren't his thing, you see. So, if you are a leader kind of lady, take that into your career, not your relationship! 
Allow him to dictate the exclusivity of your connection, and you'll soon see him making a commitment to you. As much as he likes attention, this isn't a man to play the field. You'll see. 
5. Introduce Him To Your Family
Family is a huge deal to the typical Leo man! If he doesn't already have kids, he will probably want them. Or even want more of them. He is often a man very much connected to his entire family, including the extended family, and he'll see a lot of them. 
The woman he wants to commit to is the woman who feels the same way. A woman who values family as much as he does. If you want to keep him around, introducing him to your family is a really great way to have him in your life permanently! 
He'll struggle to let go of you once he has that mental picture of you in his life, of mingling families and having your own little family. It's like his kryptonite – so go ahead, let them all meet! This can only go well – plus, he will be ultra-flattered. And nothing says love to a Leo like flattery! 
6. Seduce Him Constantly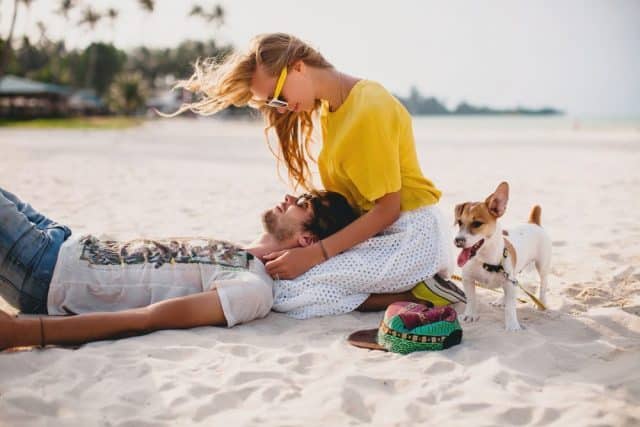 Leo men have roaring libidos. As a fire sign, they are naturally passionate, and it's important to have a powerful physical attraction to the person they plan to settle down with. They are particularly visually stimulated, and nothing is too over the top for them! 
Turning this summer flirt into a strong relationship will definitely require that you seduce him –often. That includes normal flirting, but also plenty of playtime in the bedroom, sexy pictures, suggestions, and innuendos. 
In fact, it's safe to say that you should spend as much time inside the bedroom (or wherever else you like it) as dating and going out to have fun! 
Read next: 4 Signs That A Leo Man Is Falling For You
7. Go Out And Party – Together
Leo men love to party! More specifically, they usually love to dance and be the center of attention! This man enjoys a night out with his boys and his lady, and he could never be with anyone who doesn't want to have fun with him – or at the very least, let him go out and have a party! 
Be sure to go out often when you are having your summer flirtation! Have many sweaty, crazy nights out doing shooters, dancing on the beach, and having adventures. 
Show him you enjoy having a good time, and that you also need him around to protect you in the future when going out – he will love that! 
You can also have lots of dinner parties at home, dressing up and acting silly, dancing in the house and enjoying each there in that way. He will definitely start seeing you in his future when he knows he has a woman who will be right there by his side, enjoying life with him! 
What do you think? Have you ever dated a Leo man before? Leave your stories in the comments below, I just love hearing from you, my readers! 
And now that you know exactly how to catch your perfect Leo man, you've got to take my compatibility quiz to see if you two are meant to be! You can find it right here.
Your friend and Relationship Astrologer,
Anna Kovach
---
---