What happens when you mix two fire signs? Lots of passion! Find out more about the love compatibility between Leo men and Sagittarius women—plus a Celebrity Spotlight on actress Vanessa Hudgens's recently imploded long-term relationship with Austin Butler!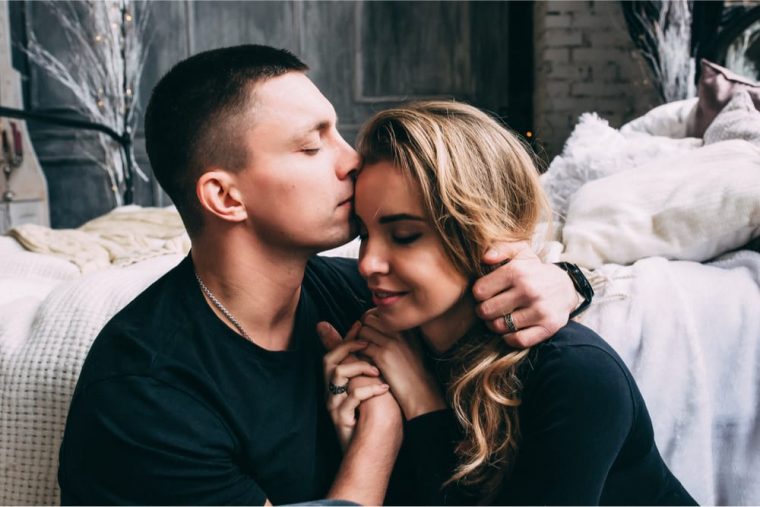 What happens when you mix two fire signs? Lots of passion! Find out more about the love compatibility between Leo men and Sagittarius women—plus a Celebrity Spotlight on actress Vanessa Hudgens's recently imploded long-term relationship with Austin Butler!
Romantic Compatibility Between the Leo Man & the Sagittarius Woman
When I see a Leo man get together with a Sagittarius woman, sparks always fly—it's a true soulmate match! 
Both of you are fire signs, which indicates that you have very similar attitudes on life and that you share a sense of adventure and passion. In fact, in my experience, passion is the most important thing to fire signs like yourselves, and in this, you will find a smooth groove!
The Leo man likes to take charge, and his natural leadership can be very attractive to the typical Sagittarius woman. But he shouldn't expect you to just "obey" him—Sagittarius women are free spirits who answer only to themselves! You will be attracted to his dominant male energy—as long as he doesn't try to control you or limit your freedom. 
The Sagittarius woman's honesty and sense of fun really appeal to her Leo partner—he loves having a good time with her wherever they are. These two are always guaranteed to heat up a dance floor! 
Dating—Will It Get Serious?
In my experience as a relationship astrologer, the Leo man is almost always looking for commitment. He is a real family man, and when invested, he will do anything for his "pride"—he is a lion, after all! 
What about you, Sagittarius? Well, with you, anything goes. You like loyalty, but you are also fine with things being as they are. You're not one of those ladies who necessarily need a ring on her finger as proof of love.
The dating phase of your relationship, for you, is the best part; it's fiery, passionate, exciting, and titillating. You'll both feel you have finally met your match in each other! So, naturally, this relationship will flow into something more solid before long. 
Sexual Compatibility—Hot or Not?
The sexual combability between the two of you is roaring! You're fire signs, again, which are known for their high libidos. 
Your Leo man will give you a run for your money, Sagittarius, and you may even find yourself exhausted at times trying to keep up. However, no matter what happens, you will always have this powerful chemistry between you that speaks volumes about your connection.
You're up to try anything, but do be aware that passion isn't always love. It can be tempting to rush in and believe Leo is your soulmate based on your physical attraction alone.
That said, the chances of you two being a perfect match are high!
Commitment Potential—Forever or Just for Now?
This relationship is not one of those destined for the rubbish heap from the start. You will both give it a fair go before you throw in the towel. 
The relationship between a Leo man and a Sagittarius woman is quite often one that lasts, unless you burn each other out, of course—sometimes, there can be too much of a good thing! 
Leo is quite committed, but are you? Being honest with yourself is very important, as you belong to a Zodiac sign known for being a touch fickle in matters of the heart. 
However, you are honest and will always do the right thing, and that goes for when things aren't working out.
Problem Areas—Will You Make Each Other Crazy?
Sagittarius, you will find the ego of your Leo man hard to handle at times. 
He is a masculine guy, a man's man, and his protectiveness can stray too far into possessiveness, which is not your cup of tea—at all! If he orders you around or tries to control you, you'll be quick to tell him where to go! 
On the other hand, your Leo man will find your recklessness a bit much to handle at times, and he won't always appreciate your inconsistencies and failure to commit to things the way that he does. 
These are small things, so it's nothing to worry about, but tension can build over time if you're not careful. Luckily for you, neither of you is afraid of conflict, and you will deal with these issues as they come up instead of burying them! 
Celebrity Spotlight—Vanessa Hudgens and Austin Butler
These teen-movie icons were thought to be one of those stable Hollywood couples that would be together forever. Now with their recent split in January, many of us are left shaking our heads and wondering what could have gone wrong. After nearly a decade together, these young stars called it quits—and no one is quite sure why! 
Having met way back in 2005, these two became friends, with Vanessa still dating co-star Zac Efron at the time. However, fast forward to 2011, and these two were seen together for the first time. 
Sagittarius Vanessa from that point on seemed to be wholly smitten by her gorgeous Leo boyfriend, Austin, right up until the very last Insta photo. 
These two, typical of fire signs, were always seen cuddling and getting up close and personal—and it's clear they had a great time together, whether it was jetting all over the world (Sagittarian women love traveling!) or going to Coachella. 
We can only speculate at what went wrong, but from my astrological perspective, relationships that are started in your early twenties tend to reach a turning point around the 8-year mark. Things have to go to the next level, or else they fizzle out. 
Austin—The Hunky Leo
Not only is he an accomplished and ambitious performer, but he's good-looking and seemed totally gaga over Vanessa! 
He's a great young actor, loves music, and was clearly committed to Vanessa while they were together. These are all typical Leo man traits—think of Jason Momoa, also a Leo man, who is so devoted to his family and so talented! Leo men are born to be on stage and often show talent with singing and dancing.
 It's possible that he could have been a bit of a possessive partner, as Leo men often are, which may have gotten to Vanessa at times. 
He was also born for the glamorous life that they both seemed to fully enjoy, from the film premiers to the parties. 
Vanessa—The Fun-Loving Sagittarius
You can see from Vanessa's public profile that her Sagittarius energy beams through her! She always seems positive, upbeat, and happy—typical Sagittarian. 
She also clearly loves to travel and dance; Sagittarius is the life of the party! She comes across like she is a lot of fun.
She showed her clear passion for Austin through her (many) social media posts, showing the world that he was her best friend, her inspiration, and her supporter. 
She has been only positive about him in public, so we wonder—who broke up with whom? It seems unlikely that Vanessa was the instigator based on her Astrology, though we can never know what went on behind closed doors! 
Astrological Compatibility Between Austin & Vanessa
On paper, these two are astrologically meant to be—but sometimes, people can outgrow each other. However, they clearly shared a deep and fiery passion. They were openly affectionate (typical of fire signs) and they seldom could keep their hands off each other. 
Vanessa has said in the past that good communication made their relationship work, as well as trust and respect for each other. 
These two were seldom apart for long, even in the busiest time of their glittering careers. Vanessa called Austin "her rock," which is what Leo men are—they are consistent, reliable, and committed. 
In fact, I would be surprised if he didn't pop the question—and perhaps she turned him down. Sagittarius women are known for their unwillingness to commit until later on, unless passion takes over. These women don't take a walk down the aisle lightly, and Vanessa may have been a bit gun-shy.
What Worked?
With these fire signs, the passion was clear to all, and from my observation, that passion really made this relationship what it once was. Passion for each other, for their relationship, for the fun things that they did together, and for their parallel careers. It all added to their flame. 
Vanessa has said that their values aligned—and perhaps they did, for a very long time. They were young, gorgeous, and free, and they had so much in common from music, to dance, to performing, and, of course, their compatibility. They adored each other and made sure that the world knew. Fire signs do like a lot of attention, and they gave each other plenty of that! 
It seems as if there was also a lot of support for each other. When you have your Sun in the same element, you do tend to understand your partner much more easily. This is a "get up and go" combination, a pair that lived life to the fullest.
Fire signs are also very extroverted, so they would have had that in common, which would have been a boost in the relationship. Sometimes, though, certain relationships are better in public than in private.
What Didn't Work?
The first thing that comes to my mind in terms of Astrology is the "8-year itch" I mentioned before. People often call it the 7-year itch, but astrologically speaking, it's closer to 8. This can be applied to anything, from relationships to work or any other life experience.
Sometimes, this alone can end a relationship—the two partners will have realized that their goals and values have changed, and if either isn't on board anymore, it's make or break time.
One thing these two had working against them was age. Because they got together before the age of 30, their relationship stood less of a chance of working out. The 8-year itch is particularly potent in couples who start their relationship too early—before they really know what they want. 
It's possible that "adulting" got in the way, and one of them could have wanted kids or marriage while the other didn't. My bet is on Vanessa wanting more freedom! 
Read next: 3 Reasons Why a Leo Man Avoids Commitment (And How to Turn it Around)
Summary: Fairy Tale or Nightmare?
Even though this relationship ended, I believe that it was a fairy tale. Not all fairy tales have happy endings, after all—and this lovely fire couple seemed to make the very most of their life together when they shared it. 
They built successful careers with a shared passion for performance and music, they jetted all over the world, and they grew up together. They were each other's greatest support and cheerleaders, and they clearly adored one another for a long time.
Sometimes, we just have to appreciate the good things in a relationship and leave the rest in the past. These two are probably heartbroken just as the world is, but we trust that being fire signs, these two will bounce back stronger than ever! 
Fire signs don't stay down in the dumps for long, and Vanessa and Austin are too fabulous to stay single forever! We look forward to seeing what they do in the future.
Other famous Leo/Sagittarius couples: Casey Affleck & Summer Phoenix (together 11 years); Charlize Theron & Stuart Townsend (together 9 years)
If you're ready to understand more about how compatible are Leo man and Sagittarius woman, check out my brand new Leo Man and Sagittarius Woman Love Compatibility Guide, and if you want to catch him and keep him click here to learn more about Leo Man Secrets.
---
---
Similar reads