You've found yourself intrigued or turned on by a sexy Leo man but aren't sure how to compliment him. Find out what a Leo man wants to hear from a woman.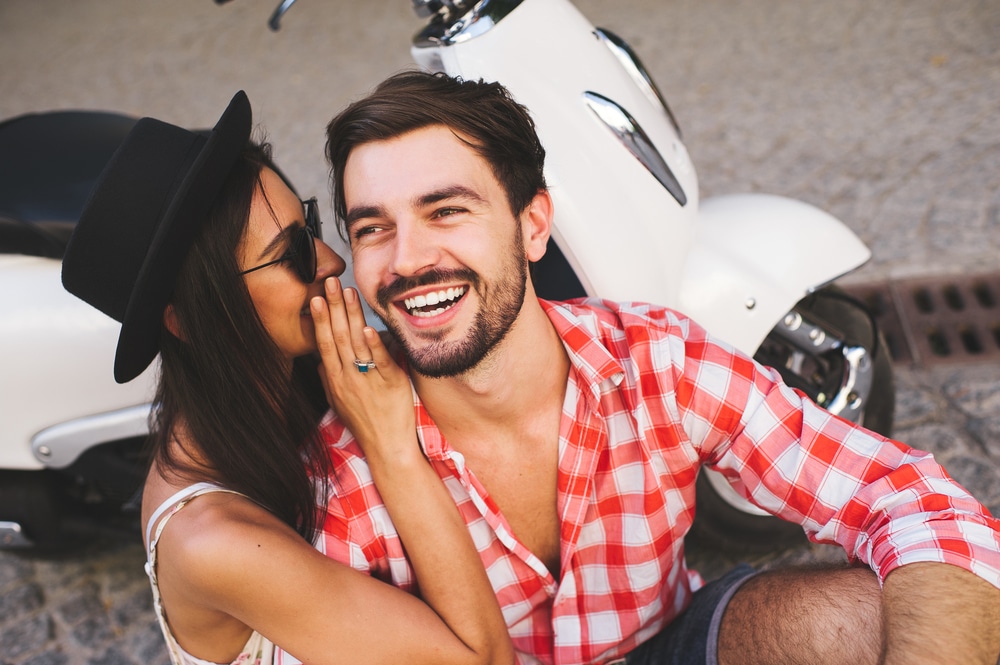 Good job, girl—Leo men are not the easiest guys to snag! They are known for having high standards! So, this is undoubtedly the reason you're curious about how to compliment a Leo man? What do Leo men love to hear from women?
There are a few things a Leo man LOVES to hear! Luckily for you, I am about to share them all with you so that you can have the happiest relationship with your Leo man.
Leo man is generally affectionate and expresses his emotions quite easily, making him feel loved and at ease means that he is honest and genuine.
So, how can you talk with your Leo man about the feelings? Here are the most important things you should know to support, care for him and make him feel loved.
Keep reading and I will show you what to say to a Leo man to make him yours and how to compliment him.
Do Leo Guys Like Compliments?
Yes, the Leo man enjoys receiving compliments. It is an utterly great way to touch his heart. He will feel accomplished, and his ego will be boosted. He likes to be praised for his achievements as much as he doesn't like to be criticized for his mishaps.
Leo man is an excellent source for keeping your feet on the ground when you're too emotional or daydreaming too much. This is why you need to appreciate him and enjoy spending quality time with him, which is something that will definitely make him happy.
If you struggle with complimenting your Leo man and finding the right words to make him feel special, I strongly suggest getting my Forever Love With Leo Man. It will help you speak to his core and make your bond so much stronger.
How To Compliment A Leo Man — What Leo Man Likes To Hear
The Leo man loves to be slathered up in compliments and any of these will let him know that you want him, desire him, want to be with him, and are interested in a relationship.
These will also make him feel like a million bucks thus wanting to get closer to you and figure out how best to please you more. This is the core of the Leo man. He wants to impress you, make you happy, and make you adore him.
The flattering statements will absolutely win you some Leo time. Whether it's a first date or a more serious approach to what the future can hold, you'll get something back for your efforts.
So, here is what Leo man likes to hear:
"You make me feel safe and secure." Allow yourself to be vulnerable with him. Let him act as your protector. You should not question his intentions. If he loves you, he will show you, but also be aware that he needs reciprocity. He needs to know that you care about him and that you will be there for him when he needs it.
"You are a handsome man and I never get bored staring at you." This will elevate your Leo guy to the stars. Ultimately that is what the man wants to hear from his woman. No competition. No uncertainty. Just you, showing him that he is the only man for you and that you want to devour him with your eyes!   
"You are always on my mind." When you express to a Leo man that he's on your mind, it will make him feel cherished and appreciated. I'm telling you, it's all about that appreciation with a Leo man. It also makes him feel desired, which is a huge plus.
"You're So Smart And Talented." He will love knowing that you appreciate him for what he does best. It makes him feel important to you. A Leo man loves being swept off his feet by a woman who knows his worth. It's a turn-on for him.
He would never want to be with someone who doesn't "get" his value in this world. This is an excellent way of letting him know that you know who he is.
"We are in this together." He'll cultivate much more respect for you if you can open up and let him know that you will be there for him no matter what happens. Leo man needs constant reassurance of your undying loyalty.
Read more on what a Leo man looks for in a woman — his needs, likes and dislikes <<
What To Say To A Leo Man To Turn Him On?
The Leo man needs to be desired to keep his sexual energy alive. You need to approach him with playful lust and tickle his mind. Just watch him lead the way, because Leo man is amazing in the bedroom. He loves to experiment, and he loves fantasies. Tell him the following:
"I am down to try just about anything with you." Leo man wants to feel like the most wanted man on the planet. If you can do that, you're "in" and have the ability to turn him on instantly. Leo enjoys your attention and willingness to try something new. Do something sexy that will turn him on but still give him free range to take the lead once you've started.
"Share one of your sexual fantasies with me." This also works and can be a thrilling and exciting experience for you both. Respect his boundaries, let him take you to his fantasy world. Leo loves roleplaying. Not only will he be sexually aroused, but he will also deepen his connection with you. He needs to make sure he feels comfortable and respected, and leave the rest to him.
"You make me feel so horny." Leo man wants to hear how good he is at making you feel like a woman. He wants to hear how sexy he is, how hung up he is, how his touch makes you feel, and how much you want to have him inside you.
He's a verbal type of guy, and when he gives it to you, you had better give him some sound feedback. Trust me when I tell you, make it really positive! The more positive you are, the harder he tries.
Learn more about the most arousing Leo man erogenous zones all women should know <<
How Do You Compliment A Leo Man Over Text?
Leo wants to feel happy when he reads your message. To give you a few examples of what types of texts the Leo man loves to receive, here are three texts that are most effective with a Leo man.
1. "Hi, gorgeous! I hope everything is going well with you."
This is one of the cutest things to say to a Leo man. This is what I call a "check-in" text message. It's a way of reaching out by flattering him and letting him know he's on your mind. If he's still into you at all, then he will appreciate this.
This text helps him realize you're still there for him and still care.
Do the "tester" text here and you should be able to get his attention moving again if he's still interested in you.
Wondering how to get a Leo man to chase you through text? << find out here
2. "You're the only one for me."
But behind the Leo man's passionate nature is loyalty. Untainted loyalty for the person who shows with action that they will always have his back.
Therefore, when you remind the Leo man by text that he is indeed the only one for you, your eyes are only for him, and you appreciate him being your life, he will melt!
He'll swoon because he knows without a shadow of a doubt (because you show him consistently) that you care. Compliments are as important to a Leo man as respect and loyalty.
3. "I love how good you look in that shirt."
Complementing his dress style is equally important. He needs to sense you are undressing him with your eyes. He loves extravagance and having a good time. Leo men thrive on being the focus of your attention. Remind him often how good he looks and how he has ruined you for other men.
It is not possible for you to love anyone else now that you've got him in your life. Flirt like crazy with him. Tell him how sexy his eyes are or how much you love the way his hair is styled. This could also fit in your text message.
If texting isn't really your game, you'll be glad to know that I have written a whole guide on how to text a Leo man the right way. You should really check it out if you want to learn how to play him at his own game.
Read next: How to Get a Leo Man to Commit – Your Step by Step Guide
14 Words A Leo Man Loves To Hear…
Have you ever heard of a 14-word elixir that can rejuvenate a relationship with a Leo man?
Just as communication is the most important aspect of a relationship, one of the most important aspects of communication is knowing how to overcome disagreements and misunderstandings.
I know many women who have tragically failed with Leo men simply because they underestimated the importance of conversation.
Some didn't talk to them enough and some talked too much… Others talked just enough, but they said a few wrong things here and there that made their lovers pout and brood.
I'm telling you, you never want to make a Leo guy pout over something you said.
It's best to resolve such conflicts as soon as possible, because his negativity might escalate until one day he just snaps and decides you're not the one for him and it's all over.
The worst part is that in 9 out of 10 cases women don't even realize that they said something wrong… or didn't say something he expected them to say.
He doesn't send signals when he's hurt or disappointed. Instead, he usually just goes quiet… but women never notice. And even if they do notice, they don't know what to do in time.
That's why whenever you have a disagreement, it's best to defuse it with words that can save your relationship.
Click here and find out the 14 words your Leo man needs to hear to melt his heart <<
xoxo, Anna
---
---
Similar reads