So you find yourself really attracted to a super sexy Leo man but aren't sure what you can do to get him in bed with you. What can you do to get him to sexually engage and is seducing the Leo man hard thing to do? Keep reading for some intriguing food for thought ideas that may help you finally get your groove on with this lip licking Leo guy.
Dress the Part
If you want to lure a Leo man in a sexual way, you're going to have to flaunt what he's going to be looking forward to. I'm not telling you to dress like a hooker so don't get it confused.
You're going to want to wear the latest fashion that will make you look very alluring but without looking trashy. He's looking for a woman with class that could be potentially a mate for the long haul.
Leo isn't drawn to women that dress as though they're trying to pick up men on the corner. If you show him everything up front, he won't have any desire to buy into it and find out what else you've got to offer.
He's one that will go for the classic sexy. I will say this though, he likes to be the dominant one in bed so wearing something that makes him feel he'll have the control may turn him on subliminally.
What would that mean? Wearing small handcuff earrings, perhaps a choker that resembles a collar, lacy thigh highs, or something that indicates "sexual desire" that when you start flirting with, he'll be floored.
When you dress as though you're out to "be captured" by him, he'll absolutely take the bait and be ready to whisk you off your feet as soon as possible. Though he may not dive into bed the first night, it shouldn't take long.
Leo is a very physical guy and loves having sex often. If he does dive into bed with you right away, enjoy it! Though if you want more from him, you're going to have to let him know you're not a "one night" type of gal.
This gives him the information he needs to decide if this is something he wants to pursue further or if he'd rather tell you thanks but no thanks.
Kissing and Nibbling Works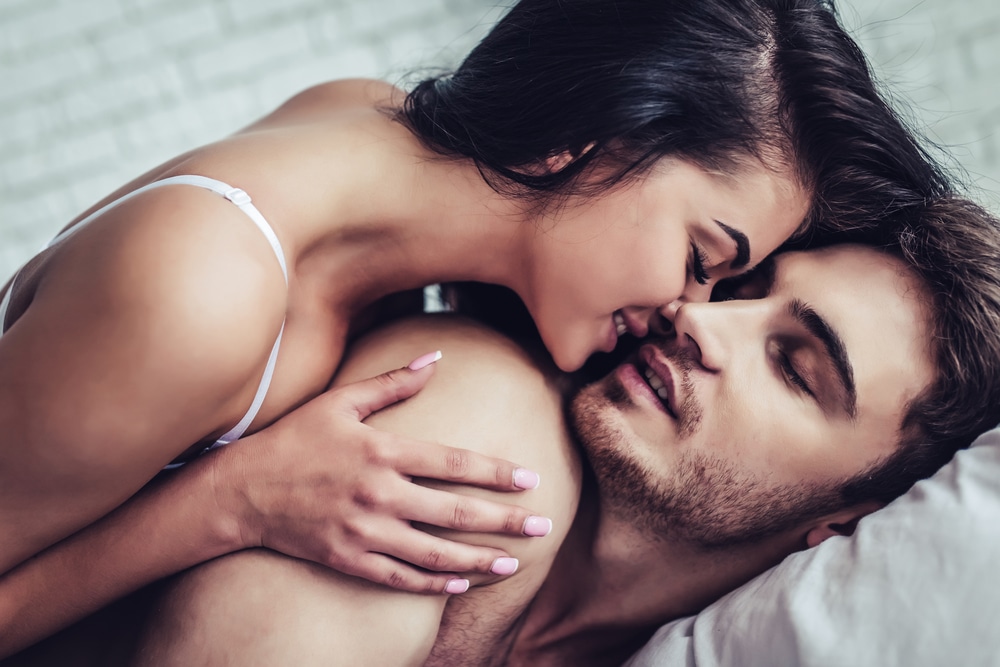 This guy is easily turned on by being passionately kissed and having his earlobes nibbled on. You can also gently nibble on his neck and shoulders. Any of this action will really turn him on.
He isn't likely to be able to resist when you do this with him. It lets him know you're in the mood and would like to have him. At that point, you can expect him to take control and do what he does best.
It's also very likely that his back will ache for your scratching. Yep he likes it a bit kinky in the sack. So when he's starting to passionately kiss on your neck or breasts, scratch his back.
He'll lose his mind and will only be able to think with his penis from that moment on. If that's what you're after, that's what you'll get. Go for it and see what happens. You'll be pleasantly surprised.
Be sure that once you start having sex that you continue to do these things. It will keep his juices flowing and excite him enough to keep going and make sure you're well taken care of.
Read next: Signs A Leo Man Is Not Interested – Observe Him in a Smart Way
Pillow Talk with Leo Man
The Leo man loves to hear about himself and seducing the Leo man can be fun thing to do. In this case, when you're trying to turn him on or seduce him, telling him how amazing he is or how sexy he is will get his attention.
When you're talking to him, make sure you touch his hands or arms as much as possible. You may even try sliding your hand onto his leg. He'll absolutely react to this in a positive way.
Coming onto him isn't being too aggressive. It's just letting him know where you stand and what you want. He'll be happy to accommodate your desires once he knows you want him.
You can even compliment his physique and rub his strong muscle bound arms while telling him how beautiful his eyes are. Tell him how much you'd love to experience what it would be like to be in his arms.
He may very well at that point take you into them and show you what he's made of. Then you can apply the other tactics I've mentioned so far all together. This man won't know what hit him but he'll be in hog heaven.
You can also dirty talk with him. He loves it! Tell him via text what you'd like to do with him next time you see him. You can describe in full what you'd like for him to do to you. Try telling him in detail what you want to do to him.
He'll go nuts and want to get together with you as soon as possible so that he can fulfill those urges. This is hard for a Leo man to resist and is an easy way to lure him in so you can have more of him.
If you want to have more of a relationship, these are things you'll have to do regularly to keep his interest and to keep him sexually tied to you. He'll almost come to expect it.
As long as you're alright with it then I say go ahead and give it a try. Leo men want passion and will give passion as long as they feel the person they are giving it to really appreciates it.
Always show your appreciation for his performance. If he's not performing as good as he can, you can gently try to guide him to what you want him to do by telling him how much it would turn you on if he did it.
Afterward you'll need to tell him how absolutely incredible it was and you are already looking forward to the next time you two are locked in. He'll absolutely love this!
Be aware that there is much more you need to know about seducing the Leo man. If you are interested in this, then i recommend you my new book called Leo Man Secrets.
Share your story (or situation) with our community in the comment section below (don't worry, it's anonymous).
Wishing you all the luck of the universe
Your friend and Relationship Astrologer,
Anna Kovach