Monthly June predictions for your Leo man. What will his mood be for the spring season? Read on and discover.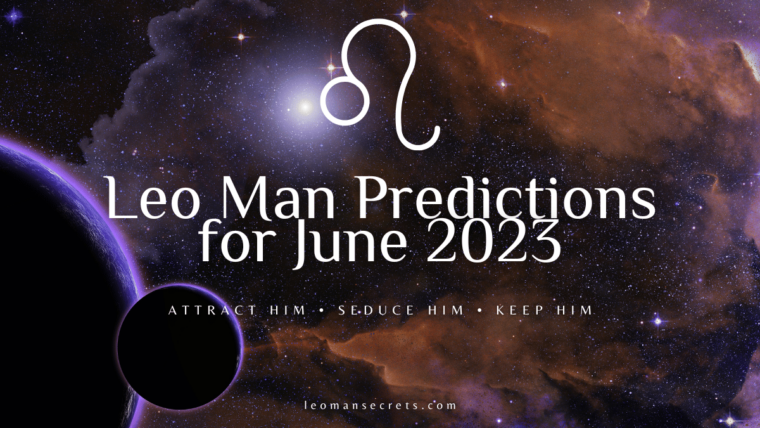 Hello Sweethearts, I really hope you have been enjoying my monthly guides for Leo Man. May was really crazy, but June looks like being a month that's more solid and predictable.

Let's get going on this month's prediction for Leo Guy. I can't wait to reveal the secrets to a better relationship with him.

This is an excellent month for clarity and deeper understanding. It's a good month to focus on what is ambiguous or hidden and to get a handle on the elusive areas of your life, which create anxiety or where you have both not been entirely honest.

While a lot of 2023 is hectic and disorganized, in June, you can develop a clear vision of what you truly want. Circumstances will tend to reveal to you how to set in motion what you previously could only imagine.

Sun in Gemini Square Saturn (19th June)

This transit symbolizes disappointment and the feeling that events have developed differently from what he expected. This could represent the end of a 'honeymoon period', where you and Leo guy begin to really learn about each other intimately and work on establishing boundaries and relationship rituals.

There's an element of tolerance needed, and you have to think about your strengths as a couple rather than what could potentially pull you apart.

Mercury enters Gemini (12th June)

This is a time when you strengthen your relationship with Leo Guy through friendship and debate. The more you stimulate his curiosity and give him unique insights, the more you guys click or get back to a better level of communication.

Mercury Trine Pluto (12th June)

In every situation, there's something to be learnt. He's more willing to look in new places for answers which means you can bring up different topics that used to be red lines.

He's going through a cycle of death and rebirth on an inner emotional level that will increase the clarity he has about life's possibilities. It's all about recognizing and stripping away thoughts that are unhelpful or regressive.

He's drawn to relationships or situations where you (as his new partner) depend on him for emotional support and a sense of identity. In marriage, he is sympathetic when you open up and show him a vulnerable side.

Mercury Square Saturn (16th June)

This transit indicates that he can be stubborn and pigheaded; emotionally, things can be a little strained as he's more likely to be fearful and to react with a controlling attitude rather than a constructive one.

It's hard for him to acknowledge and learn from mistakes, and this can make communication with him difficult.

This isn't a good time to begin dating him if you are currently friends because he can go from platonic to passionate and back to platonic without really thinking it through.

This is not a good time for you guys to enter business deals or arrangements with friends. It's very important to be discreet and keep each other's secrets right now. He's often suspicious, and so tread carefully and don't take risks with the relationship.

Sun enters Cancer (22nd June)

This is an excellent week to take a break and get away from it all. It's definitely a time to contemplate, and it's good to put off your friend and family events for another time.

He benefits from some introspection; it's not a time where you guys should force against the grain, learn to follow your intuition and work with the subtle energies.

It's important for him to get enough sleep and avoid confrontation. This isn't a good time to try and use aggression to move communication along. Let things develop at their own natural pace.

Venus enters Leo (6th June)

During this phase, he's likely to seek attention in positive and negative ways. He loves to grab the attention, and he enjoys situations that are social. He's likely to want to date and develop new relationships or cultivate more fun and affection in an existing relationship, but that's not necessarily easy this month as relationships and sex tend to awaken mixed feelings in him.

He's most successful doing business in a social setting, where he's able to capitalize on his personal charm to promote himself or his products.

He can be a little suave and even insincere if he's insecure or not quite ready for love. It's like he's craving the closeness of a relationship, but he's not willing to open up, so take it slowly in love with Leo guy.

He may have luck attracting money or financial benefits.

Venus Opposite Pluto (6th June)

This transit is a cue that you guys have to move on; it's important to let bygones be bygones.

The process of letting go of any previous regrets, fears, grief or pain can be quite cathartic. There's an element of acceptance, where you both have to accept what you cannot change and then move on and make the best of your strengths.

Venus Square Jupiter (12th June)

This is an excellent aspect for healing and achieving wisdom in love. Be philosophical about life and events and see the bigger picture.

A lucky time in his career, especially regarding artistic careers and PR.
Theme of the month: There's the potential to revive the dreams that you as a couple have neglected it even given up on. The key is it's never too late to do what's right!

Work on making your dreams a reality or at least getting them back on the itinerary.
Magic Phrase: "Our problems are only as big as we make them."
Magic Text:  "You've given me a world of dreams"
Do: The New Moon phase runs between the 6th to the 21st, and this is the most opportune time for discussions, proposals, arrangements and new initiatives for both you and Leo Guy. After the 21st is a time for more reflection, consolidation and reassessment. This is definitely a favorable time for home moves, home improvements and anything related to property. Family events are favored. This is also a positive time for his health goals, dieting and new exercise routines. It's also a promising time for advancements in his career.

This is an excellent time for a brand new romance, dating and positive events to do with your children, it's also a good time for you to talk about extending the family or you getting pregnant.
Avoid: This may not be a good time for anything to do with PR and publicity; it's better for him to focus on home and family rather than being incredibly orientated towards his external or social goals.
Access your Leo Man's Full 2023 Horoscope Here
Week One
This is a perfect time to renew your focus on the core values you share as a couple.

New relationships can come about in mysterious and unusual ways, and they are likely to become very intense and sexually exciting quite quickly. New relationships must have a strong physical attraction.

You and Leo Guy should start all the discussions you need in order to feel like you are both understood and heard. Don't dwell on past events and resentments; look towards the future and what the two of you can change instead of what you cannot.
Week Two
Be direct with your words and surprise him by introducing him to new people or being more interested in helping him achieve his dreams. Show more concern about the things that he finds hard to express but which lurk in his subconscious.

Although he's not necessarily more flexible, once he recognizes the truth of a situation, he can experience enormous relief and his energy and zest for life returns.

If he can get out of the way of himself, the sky's the limit.
Week Three
He could be feeling unhappy or disheartened about a certain situation that hasn't really turned out the way he would have desired. Alternatively, he may be preoccupied about an ex, or a previous relationship that he's not quite resolved, and that could stop a new relationship from developing.

He's gradually working towards a positive perspective, even though he's still dwelling in the past to some degree, inducing feelings of self-pity and regret.

He's thinking more emotionally than rationally right now, but often he needs to delve deep within and visit his dark side to emerge stronger.
Week Four
Mars is Square Uranus, and this transit brings a great deal of variability to the behavior of all star signs; there's a tangible level of physical and nervous energy which you will experience within yourself and definitely within Leo Guy.

He's very spontaneous and has low impulse control. He's very impatient in this period and eager to try new things. He's less likely to cooperate in love, and he's not inspired by teamwork.

It can be a frustrating time for him, and he should avoid strenuous activity and taking up physical challenges that he's not used to.

He's more likely to show temper and to overreact to things, he's got a short fuse.

Definitely a time for you and Leo guy to give each other some space.
In Closing
To the degree that you are guys are off track or uncertain about your relationship, this month will help you to take a look at what you have been ignoring or avoiding.

June brings a little bit of reality check, which can be uncomfortable if you are in the habit of hiding things from yourselves and each other.
If this hasn't quenched your thirst, you know where to find me, same place, as always.
Wishing you love and luck with your Leo Man,
Your sister and relationship astrologer,
Anna Kovach
---
---
Similar reads